News
District energy
District heating
Heat pumps
Europe's most sustainable building: Resilience House, Denmark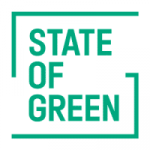 Resilience House in Vejle has been awarded the most sustainable building in Europe operating on heat pumps. The Municipality of Vejle's decision to be a frontrunner of a more resilient future through '100 Resilient Cities' has paved the way for this award by establishing the framework for building the Resilience House.
- The Municipality of Vejle is proud to see the greentech company Best Green A/S win the DecarbBuilding 2018 award in Vienna. This award indicates a level of innovation, which is in its own league and which many people get to enjoy every day when staying in the Resilience House, said Jeanette Kristensen, Business Development Manager, Vejle Erhverv.
- Related news: Resilient Solutions to Energy, Climate and Water Supply Problems to Be Commercialised in the Danish City of Vejle
The Resilience House – which is part of the Green Tech Center in Vejle – has since its inauguration in August 2017 developed into an international beacon for resistant urban development, extending far beyond Denmark's borders – so far that the house has won a prestigious European sustainability award.
- Green Tech Center assists green technology companies by using and demonstrating their products in order to support the companies' business and market development. On this basis, it was obvious to choose the brand new heating and cooling solution when Resilience House was constructed. We chose Best Green to install their solution in our new house of 2,700 m2. A solution that was relatively untested at the time. I would like to wish all of us congratulations with the sustainability award, said Jørgen Andersen, Director of Green Tech Center.
- Related news: Award Winning City of Glasgow Colleges Promote Excellence in Sustainable Building Technology
An intelligent combination of energy technologies
The prestigious award was given because of the intelligent heating and cooling system in the house, supplied by the Insero-owned energy service company Best Green.
- In the Resilience House, we have combined the newest and most innovative energy technologies with an intelligent operation of green heat pumps, thus demonstrating that heating and cooling with heat pumps is more than a sustainable alternative to traditional solutions, said Simon Steen Bak Kristensen, Director of Best Green.
Best Green guarantees that the intelligent system will cut the heating expenditures of the Resilience House by roughly 30 percent compared to traditional heating systems and 40 percent compared to traditional refrigeration equipment - including complete financing of the whole energy plant.
Source: Insero
You should consider reading
District energy
District heating
Heat pumps