Case
Energy efficiency
Energy efficiency in buildings
A warm – and safe – welcome for parents and babies alike at Bradford Royal Infirmary
9. May 2022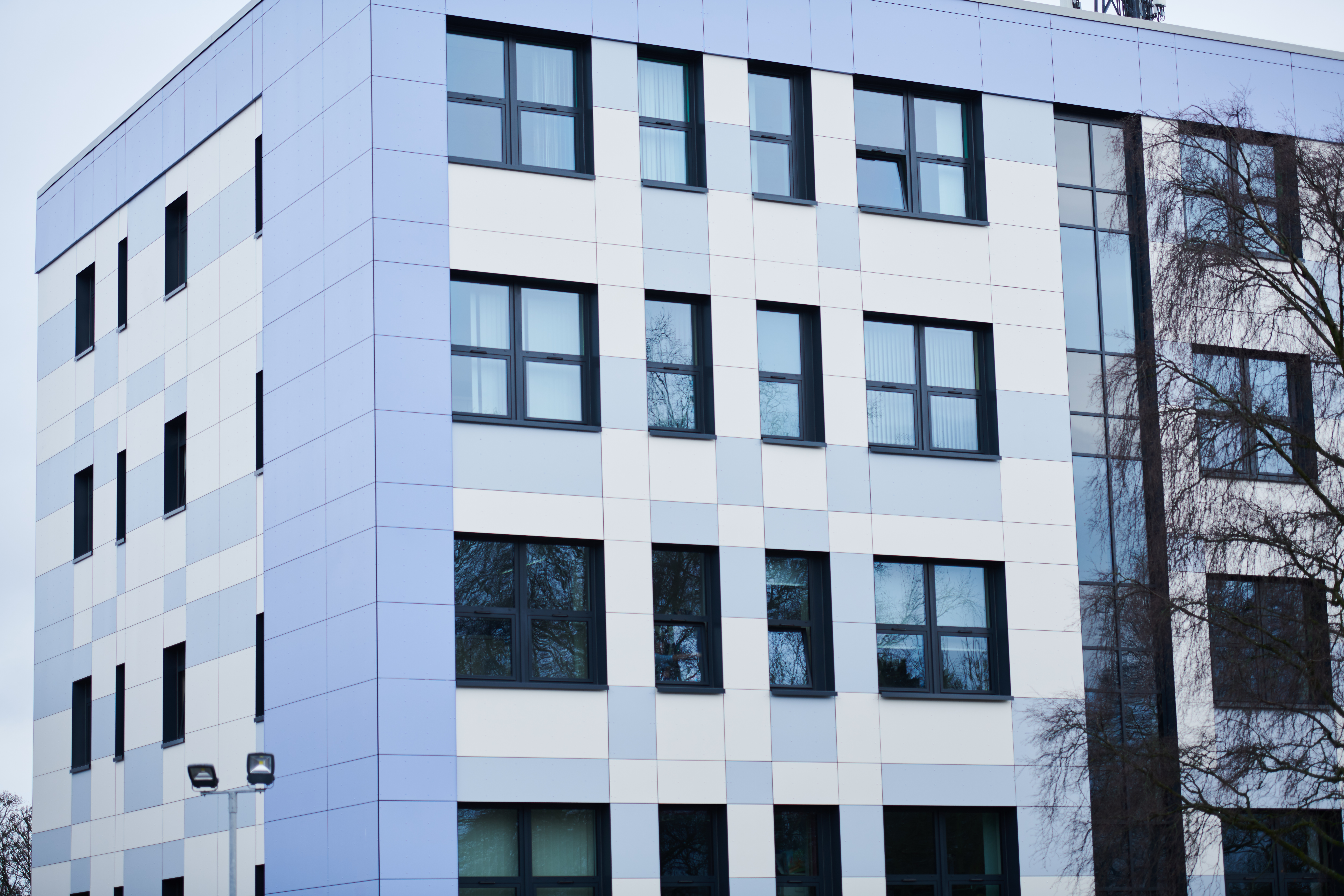 Solution provider

More from ROCKWOOL Group
Want to see this solution first hand?
Add the case to your visit request and let us know that you are interested in visiting Denmark
Request visit
The Women's and Newborn Unit at Bradford Royal Infirmary in the UK is one of Bradford's most well-known hospital buildings, where over 200,000 babies have been born since it was established over 50 years ago. However, the 1960s-era façade had never been upgraded.
Heat loss, draughts, noise and leaks were just some of the issues that made the five-storey building a cold and difficult space for patients and staff alike.
For Property Tectonics, the architect and lead consultancy company who oversaw the renovation, the team needed to meet strict criteria in terms of fire safety and energy efficiency on the project. While the renovation work was underway, the Women's and Newborn Unit also had to be fully operational.
Property Tectonics decided that insulation from ROCKWOOL and ventilated façade cladding from Rockpanel were the perfect solutions to make the hospital a more comfortable and energy efficient facility for staff and patients.
The ROCKWOOL solution's thermal benefits reduce heat loss and help the hospital optimise costs by operating in a more energy efficient way. In addition, stone wool is naturally fire resilient and fulfils the highest fire safety requirements for exterior cladding.
Rockpanel is also recyclable and has a confirmed lifetime of 50 years. All boards are as durable as stone and resistant to the effects of moisture, temperature and the weather.
The £1.8m regeneration successfully corrected all the issues the hospital building had – heat loss, draughts, noise and leaks, while protecting the building from bad weather and fire. The result was a much more comfortable and energy-efficient facility that staff, patients and visitors alike could enjoy.
The entire team at the hospital were delighted with the renovation. Amanda Hardaker, Midwifery and Gynaecology Matron at Bradford Maternity says, "We are so pleased with the finished job: the main difference is that we're insulated now and fit for the future. We've gone from having to have extra heaters on in patients' rooms to a really balmy temperature, so that we often don't even need the radiators on. And most importantly it means that we can optimise outcomes for babies. The best thing for new born babies, especially ones which are underweight and more vulnerable, is that the heat service is consistent, which it absolutely is now."