Publication
Climate partnerships
Bioenergy
Biogas
+18
27. April 2022
Climate partnerships
How to achieve one of the world's most ambitious climate goals with recommendations from Denmark's 14 climate partnerships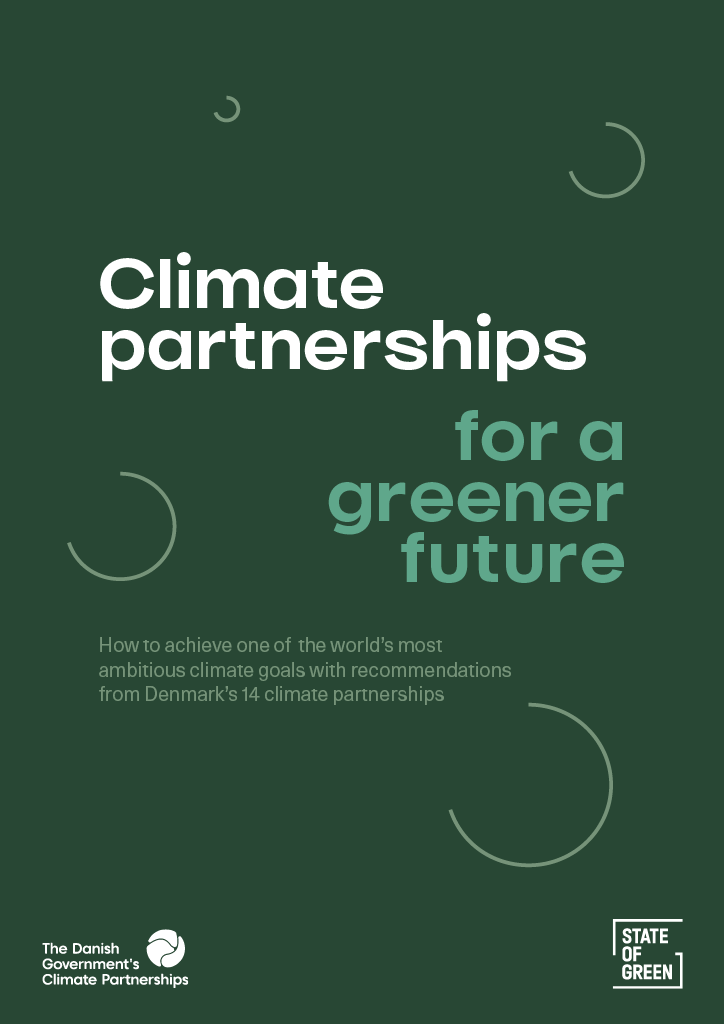 Download publication
Climate partnerships as an enabler
Reducing greenhouse gas emissions by 70 per cent by 2030. This is the ambitious climate goal set by the Danish government. But how do we get there? Building on the Danish tradition for public-private partnerships and recognising the private sector as a central actor, the Danish government has formed 14 climate partnerships. Each representing the different sectors in the Danish economy.
The 14 partnerships had been tasked with presenting a proposal on how their individual sector could contribute to CO2e reductions in a just way, supporting Danish competitiveness, exports, jobs, welfare and prosperity. This resulted in more than 400 recommendations.
Climatepartnerships2030.com
Climatepartnerships2030.com is the official website for the Danish climate partnerships. Learn more.
An inspiration for businesses and governments
In the publication, you will learn more about the structure of the climate partnerships. Discover the actors behind them, their visions, and most importantly, their recommendations for government action. While every country is unique, you may find their policy recommendations or suggested actions relevant when mapping out a path to tackle your own country or industry-specific challenges.
The climate partnership model
In the publication, you can – among other things – learn more about the model that made the 14 climate partnerships possible
Key take-aways
Learn how the climate partnerships are a new model for public-private climate action
Get inspired to set ambitious climate goals
Dive into your specific sector for concrete recommendations on how to reduce emissions
Explore which recommendations or suggested actions are relevant when mapping out a path to tackle your own country or industry-specific challenges
You should consider reading