News
Air pollution
Biomass
Recycling of waste to material
+5
Export Promotion Showcases Danish Cleantech Solutions in Rio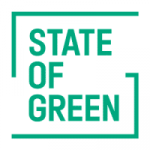 Danish solutions for sustainable development are on the agenda today at the Danish Pavilion on Ipanema Beach in Rio, which gathers representatives from the Danish export promotion as part of Danish Sustainability Days; a collaboration between the Confederation of Danish Industry, VisitDenmark and State of Green. In addition to H.R.H. Crown Prince Frederik of Denmark and Danish Minister for Business and Growth Troels Lund Poulsen, the Danish Minister for Foreign Affairs Kristian Jensen is also present.
We know that the Brazilian authorities are very interested in sustainable development and energy-efficient solutions, among others in relation to their water sector and infrastructure. Here, Danish companies have a lot to offer. We have come a long way in Denmark – both in terms of coupling sustainable development with growth, and also in creating public-private collaboration around sustainable development," says the Danish Minister for Business and Growth Troels Lund Poulsen, and continues:
- Browse through +1,500 green solutions
"A number of large Danish companies are participating in the export promotion, including Danfoss, Grundfos, Novo Nordisk and Vestas. The companies have an opportunity to present their cases and solutions towards an international audience, including representatives and decision makers from the Brazilian authorities, among others representatives from Rio de Janeiro's city council," says Mr. Poulsen.
Danish Sustainability Days takes place at the Danish pavilion in Rio from August 15-18, 2016. In addition to areas of sustainability, the export promotion will also highlight Danish competences in design, architecture and foodstuffs.
- Related news: Heat of Denmark: The Danish Pavilion on Ipanema Beach in Rio
In 2012, Rio de Janeiro hosted the Rio+20, a high-level conference aimed at reconciling the economic and environmental goals of the global community. With the world's attention, once again on Rio de Janeiro during the 2016 Olympic Games, we will highlight how Denmark actively contributes to reaching the environmental goals of the global community.
"We are proud to be able to share some of the Danish solutions and hope this day will widen the horizon and give you an opportunity to hear how some of the most forward thinking innovators see the future," says Executive Director at State of Green Finn Mortensen.
The Danish pavilion has been financed and planned through collaboration between a number of private companies, funds and the government, including the Danish Industry Foundation, the Nordea foundation, Grundfos and VisitDenmark.
You should consider reading
Air pollution
Biomass
Recycling of waste to material
Urban infrastructure planning
Urban mobility
Urban water management
Water resource management
Wind turbine manufacturing and components