Publication
Buildings
Energy efficiency in buildings
3. July 2018
Energy renovation of buildings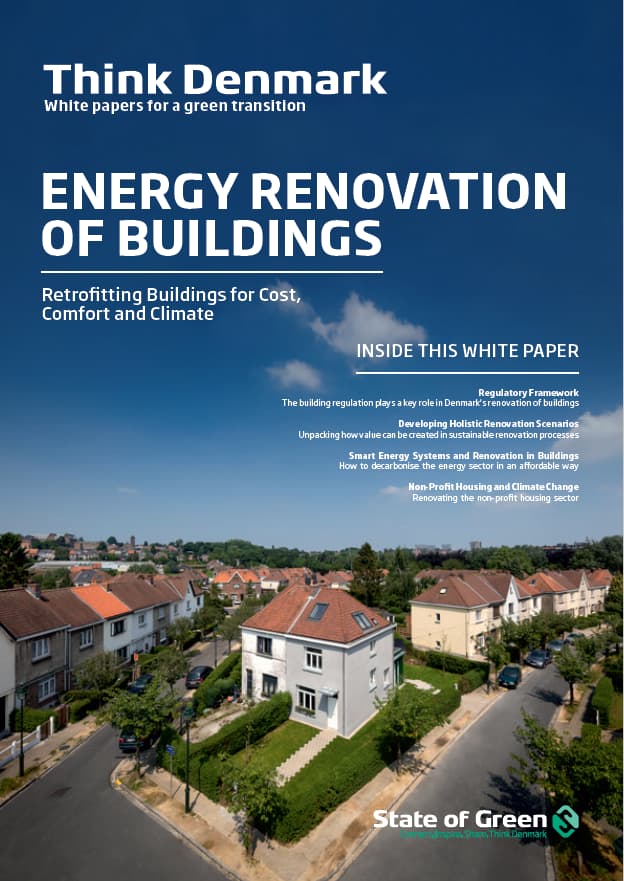 Download publication
Retrofitting Buildings for cost, comfort and climate
Buildings are one of society's greatest energy consumers representing almost 40 percent of all energy used. According to the Danish Energy Agency approximately 85 per cent of the buildings we will live in by 2050 already exist today. Therefore, in order to reach the goal of a fossil-free society by 2050, it is of key importance that we decarbonise the buildings we live in today to move further towards a green transition.
Renovation creating multiple benefits
An innovative building materials industry coupled with strict building codes and energy labelling have made Denmark a world leader in energy-efficient buildings. When renovating the existing building stock several technologies exist within the areas of insulation, windows, smart control systems and other solutions in order to increase the energy efficiency as well as indoor climate. Through this White Paper you will see solutions, technologies, research and partnerships exploiting the benefits of retrofitting existing buildings. There is the potential for large energy savings creating a strong business case for energy renovation by reducing the cost of heat and electricity short-term as well as increasing the value of the building long-term. Furthermore, increased quality in the indoor climate is a derived benefit in many of the cases which can have an important impact on the health of the buildings' inhabitants.
Buildings represent almost 40 percent of all energy used globally.
Undiscovered potential
This publication shows that there are both economic, climate and health reasons in favour of energy renovations, but an important enabler to further accelerate the energy renovations globally is the dissemination of information. Information on solutions and the derived benefits in cost, climate and comfort are necessary to realise the potential of retrofitting buildings, also in terms of the effect it can have on the common energy and district heating system towards a low-carbon future. There is still a long journey ahead in order to realise the large potential, which is seen globally within energy renovation where many solutions have yet to be developed. We hope this White Paper can contribute towards more efficient solutions in a green transition of the global building stock.