Perspective
Energy efficiency
Energy efficiency in buildings
The trajectory of energy renovations in Denmark
Since 1990, significant improvements to the energy efficiency of buildings and reductions in CO2 emissions have been achieved in Denmark. However, with ambitious national and EU goals on the horizon, much more must and can be done in the built environment.
From 1990-2020, the energy consumption for space heating per household in Denmark was reduced by 15% and consumption per m2 was reduced by 22%. This was achieved in large part through the strict energy efficiency requirements for new buildings and major renovations in the Danish Building Code. Moreover, despite an increased total building area, the total energy consumption of state-owned buildings was reduced by 14% from 2006-2020. The transition to renewable energy production has also visibly reduced CO2 emissions in these buildings. For example, CO2 emissions per kWh electricity has been reduced from 929 to 211 grams CO2.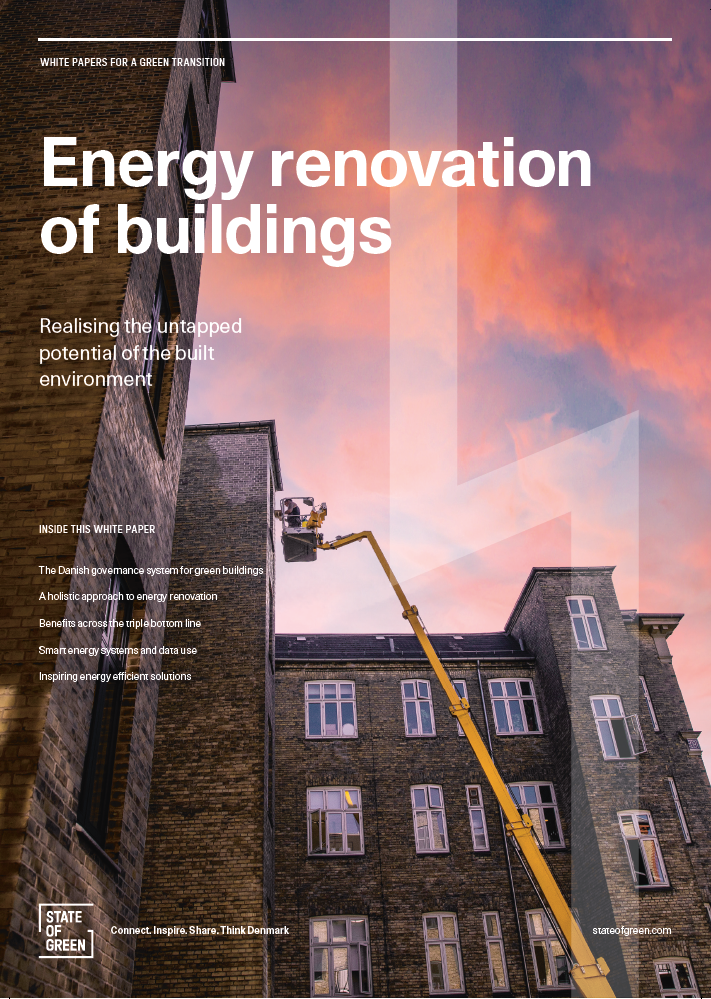 Download our publication on energy renovation of buildings today
This article is part of our publication 'Energy renovation of buildings'.
Download now
Targeting energy efficiency
The EU Energy Renovation Wave and Danish targets for energy efficiency and CO2 reductions will accelerate improvements in the energy efficiency of buildings. The EU goal is to reduce greenhouse gas emissions by 55% in 2030 and by 80-95% in 2050 when compared to 1990. The EU Commission also proposes to raise targets for improvements in energy efficiencies across all sectors to 36% in 2030. The Danish goal for CO2 reductions is 70% in 2030 and climate neutrality in 2050. In the coming years, a crucial focus will be on unlocking the remaining energy saving potential in Danish buildings, not least in buildings built before 1980.
A resourceful industry
The Danish construction industry possess much of the necessary skill and knowledge to support energy renovation in buildings both in and outside of Denmark. More than 40% of the industry's production in Denmark targets international markets. The activity in the construction sector is currently
at a high level: the annual turnover for renovation of existing buildings was 13,441,111 million EUR in 2020, accounting for one-third of the sector's total activity, with energy renovations playing a key part. Crucially, the sector works closely with energy authorities on the design and implementation of requirements and other incentives for energy efficiency.
How to make existing Danish buildings energy efficient:
Conversion of 400,000 gas boilers and 100,000 oil boilers to sustainable solutions such as individual heat pumps and district heating.
Upgrading the worst-performing buildings. Around 30% of energy labelled buildings currently possess energy labels from E-G.
Energy improvements such as energy efficient windows and improved insulation when buildings are being renovated
Ensuring optimal operation and efficiency of technical systems such as heating and ventilation
Energy efficiency requirements for new buildings and major renovations will be continually updated to cost-optimal levels
Maximum life cycle CO2 will be phased in from 2023 for new buildings and for renovation of existing buildings at a later stage, taking the embedded energy of building materials into account
Energy consumption for space heating: 1990-2020
The period 1990 to 2020 shows a notable decrease in the energy consumption for space heating per m2 in Danish households and a decoupling of the total energy consumption from the growth in total household area. The decline can be explained partly by upgrades in the insulation of older homes, partly by replacing old oil burners with more efficient natural gas boilers and district heating installations. Furthermore, requirements for new homes in Danish building regulations mean that their energy consumption per m2 is lower than existing homes.
Source: The Danish Energy Agency
You should consider reading
Energy efficiency
Energy efficiency in buildings