Turning Copenhagen Blue and Green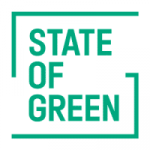 Copenhagen will, like many other cities around the world, face heavier rainfall in the future due. Back in the summer of 2011, the capital witnessed 150 mm of rainfall in a matter of 3 hours, flooding streets and basements and causing damage of almost a billion euros.
Rethinking water
The cloudburst mitigation plan addresses the challenges caused by cloudbursts and floodwater while at the same time incorporating blue and green solutions into the urban fabric:
"If cities replace the ´business as usual` approach to dealing with water with a holistic view of the situation, incorporating new blue and green structures as an integrated part of urban development, it will generate more value for money", says Frank Jensen Lord Mayor of Copenhagen.
The holistic approach to cloudburst mitigation reintroduces water as an asset in urban living. Where a traditional approach would address the challenge of floodwater by increasing the size of the sewer and stormwater network, the integrated approach aims to maximize socio-economic value by proposing bike paths acting as storm channels and green boulevards with water channels.
A view into the future
The cloudburst mitigation plan covers entire neighbourhoods of Copenhagen and provides a view into the future, not only for Denmark, but for cities around the world. The propositions in the plan can be a source of inspiration for finding the right match between urban planning and urban water solutions:
"Because of the impending climate changes, more and more cities around the world will have to make climate adaptations. They can benefit from the advanced plans in Copenhagen by finding inspiration from green solutions that will add significant value for the citizens, too", explains expert Christian Nyerup Nielsen from Rambøll.
The cloudburst mitigation plan is developed in close cooperation between the municipalities of Copenhagen and Rambøll. Ramboll has been part of a multidisciplinary team of experts within project management, storm water management, hydraulic calculations, landscape architecture, urban development, traffic, nature, and socio-economic assessments. The plan is currently in public hearing.
- Download the Copenhagen Climate Adaption Plan
- Download the Cloudburst Management Plan
- Download the Urban Water white paper from Rethink Water
Read more news in our Newsroom
Source: Rambøll
You should consider reading