News
Non-revenue water
Urban water management
Water management
+1
Save water and money: 5 ways to reduce non-revenue water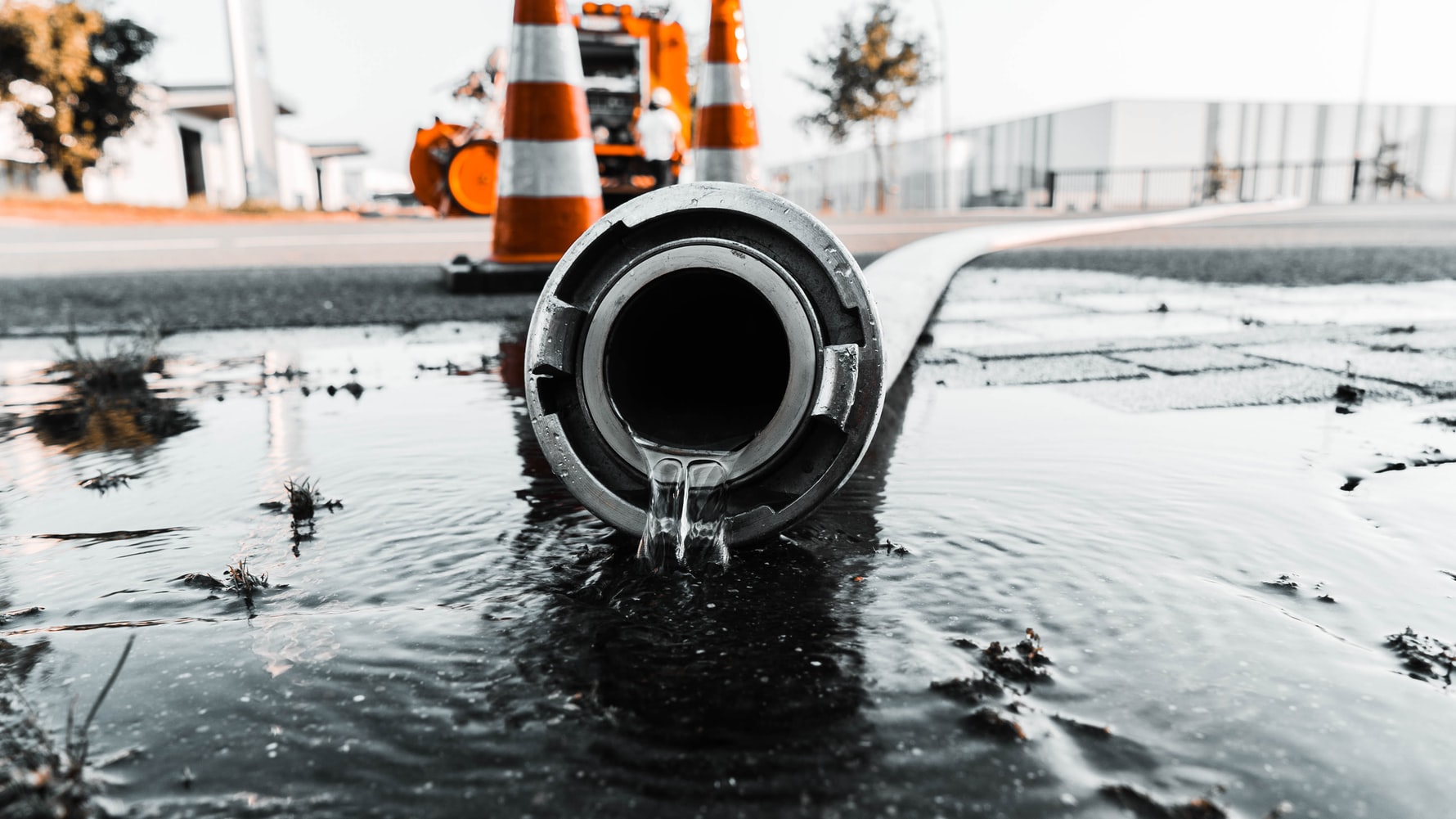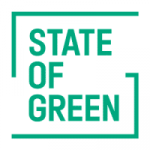 Today, 25-50 per cent of all distributed water globally is lost or never invoiced due to leakages, inaccurate billing systems, incorrect metering, illegal connections, deteriorating infrastructure and wrong water pressure management, etc. This is called non-revenue water (NRW), i.e. distributed but lost water for which a utility never receives revenue. Non-revenue water is a serious economic issue as well as a waste of the planet's scarce drinking water resources. Therefore, NRW should be reduced - not only in Texas but globally.
NRW levels are high in many cities throughout the world – varying from 5 per cent to as much as 80 per cent, with approx. 40 per cent being the average. Thus, immense volumes of clean drinking water are wasted, lost through leakages and overflows, or not accounted for due to metering inaccuracies and illegal connections – all leading to financial losses for water utilities.
Water consumption on a global scale is projected by the United Nations to increase by up to 30 per cent by 2030, which will lead to an even bigger supply gap for countries already facing water stress. With a 'business as usual' approach and average economic growth, demand for water will outnumber known available freshwater resources by 4 per cent in less than 20 years from now. Future demands for water therefore require a strong focus on effective water management, operation and a reduction of NRW.
Damaged water pipes should be improved to prevent leakage
Historically cold weather in Texas in February left millions of residents without power in freezing weather and many citizens faced costly flood damages. Pipe leaks both in the water systems and in homes have been blamed for continuing water outages in the state of Texas. Outdoor pipes, pipes in unheated areas, and pipes that run along uninsulated exterior walls can burst if the water in them freezes and expands. These challenges will most likely continue if the water services and water pipes are not improved or renewed both in the water systems and at home.
High-quality products pay off in the long term
If improvements in the water distribution infrastructure are to last in the long term, it is recommended to use high-quality components and products. Aspects to be considered when purchasing and installing new components include length and scope of warranty, Total Cost of Ownership, energy consumption as well as long-term reliability and accuracy.
The population in Texas is estimated to increase by 82 per cent between 2010 and 2060 to 46.3 million people. Providing water for such substantial population growth will require a combination of additional water supplies and increased conservation. By 2060, Texas' water demand is estimated to increase from 18 million acre-feet per year in 2010 to 22 million acre-feet per year. Therefore, there is a need to improve the water services and bring down the level of NRW, which is currently at 10-30 per cent.
In the following, we have gathered 5 examples of how cities can reduce the amount of NRW and thereby save money, prepare for extreme weather in the future and higher water demands from a growing population.
5 examples of how cities can reduce non-revenue water:
1. Aarhus, Denmark: NRW strategy and Asset Management System reduces water losses
For many years, NRW has been at the top of the agenda for Aarhus Water – the utility in Denmark's second largest city – and the NRW level has now reached a low of 4.5-5 per cent. A stringent focus on burst registration,rehabilitations plans and active leakage detection since the mid-1970's mean that the utility has managed to reduce the number of annual bursts from 306 to 155 and water loss from 13 to 5 per cent. The objective for Aarhus Water is to maintain the NRW level at approx. 5 per cent.
[caption id="attachment_129631" align="alignleft" width="416"]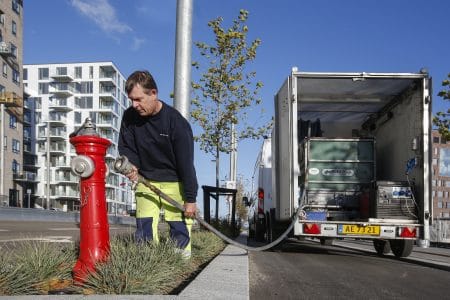 Leakage trailer. Photo credit: Aarhus Vand[/caption]
To secure long-term success, Aarhus Water has also implemented a strategic pipe replacement program using intelligent tools such as machine learning, which enables the prioritization of pipe replacement in the distribution system. The prioritization is based on risk parameters and cost-benefit analyses in order to meet the objectives in their NRW strategy. This program will be further developed to complement the Asset Management System in order to perform a data-driven risk assessment on the distribution system.
To meet the objective of maintaining a low NRW level, it is important that the NRW strategy can ensure effective maintenance by active leakage detection and find the right balance between selective pipe replacement and leak detection. In addition to implementing the asset management system, high quality construction work, pressure management, monitoring DMA night flows and new innovative methods will be developed, which will benefit and improve current work. Courtesy: Aarhus Vand
2. Copenhagen, Denmark: Collaborating for proactive leakage detection within seven years, HOFOR
Greater Copenhagen Water Utility, Denmark has lowered their water losses from 10 to 5 per cent. This has partly been achieved by employing a strategy of proactive leakage detection as well as using experts for support. Continuous leakage detection performance is key to maintaining expertise and difficult to gain when leak frequency is low. Therefore, HOFOR collaborates with leakage detection experts on issues such as getting and keeping water losses at a low level, assistance with leakages that in-house staff are unable to detect but are revealed by night time flows, training of in-house staff for triannual manual surveying and consultancy advice on the most applicable equipment and staffing for a specific NRW goal.
[caption id="attachment_129624" align="alignleft" width="443"]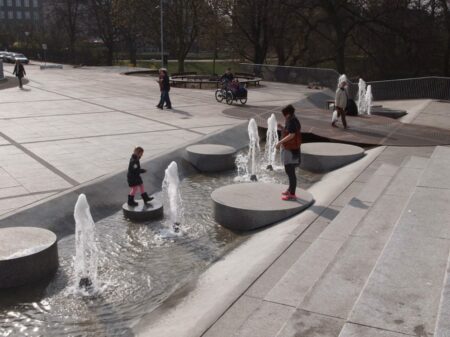 Water playground on Israels Square, Copenhagen. Following the results of a detailed investigation of health aspects of using roof water for recreational purposes, it was decided to use roof water instead of tap water for a water playground including small fountains. The roof water was disconnected from the combined sewer system, thus reducing the hydraulic load on the local sewer system. Photo credit: HOFOR[/caption]
As a trial, approx. 200 noise loggers that are connected to the online monitoring software ALMOS LEAK were installed in an area of Greater Copenhagen where no prior leaks had been detected. Within two days, the system detected a leak. It was left unrepaired for a week to access potential costs, which would have run up to USD 333,000 before the next triannual manual surveying. Courtesy: Leif Koch and HOFOR
3. Larvik, Norway: Fast track to successful NRW reduction
The City of Larvik, Norway has a customer base of 39,000 people. Larvik is also a holiday destination, and during summer of 2018, the municipal water treatment plants had difficulty meeting the demand. Larvik has several pressure zones, altitudinous reservoirs and pumping stations. The distribution system has eight major districts, subdivided into 20 DMAs with 35 district meters.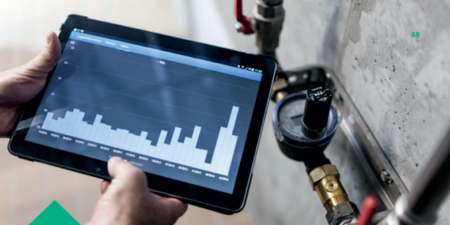 The city decided to implement KeyZones monitoring system that consists of intensive data collection and systematisation. Operational in six weeks, the system gathered smart meter data from the past two years to reference for initial analysis of the KPIs. At the handover of the KeyZones system, initiatives and methods for active NRW optimisation were selected, based on the DMAs with the most potential for NRW-reduction. A 20-25 m³/h leak with six months runtime was found after a week. Another leak of 35-40 m³/h, with 5 months runtime was also identified. The investment costs for implementing KeyZones was, despite the low water price, recouped through the repair of those leaks. Further initiatives such as changes to pressure zones were implemented, enabling Larvik to reduce the ILI from 5.0 to 2.5, within 6 months.
Courtesy: City of Larvik and EnviDan
4. Odense, Denmark: Achieving EU's lowest NRW level
In the city of Odense – hometown of world-famous Danish fairytale writer Hans Christian Andersen – the water utility VCS Denmark is responsible for supplying 158,000 customers with 9 million m3 water per year. In 2015, an EU report benchmarked a number of European utilities based on their water loss (Non-Revenue Water). VCS Denmark was ranked as the best water utility with an Infrastructure Leakage Index (ILI) of merely 0.7. Real water loss in Odense stands at only 1.17 cubic meter/km/day, or 19 l/connection/day and the NRW level has been reduced to just 6 per cent.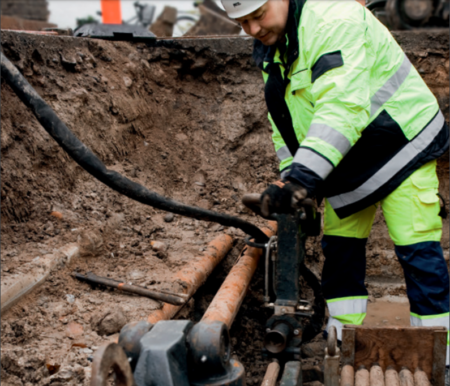 Back in 1992, VCS Denmark established a thorough master plan for the distribution network, changing it from a ring-connected system to a branch network. The network was restructured into zones and district metered areas (DMAs) that are relatively small; 2,150 consumers on average. All 63 DMAs are supervised by SCADA, which enables a reliable online monitoring of leakages. Leakage detection in the field is therefore only used to pinpoint leakages detected by the SCADA supervision.
Courtesy: VCS Denmark
5. Copenhagen, Denmark: Keeping NRW low through good management in Copenhagen, Denmark
Greater Copenhagen Water Utility, HOFOR, supplies around 700,000 customers in Copenhagen with drinking water. The residents of the Danish capital consume approx. 31million m3 water annually. The distribution network has a high average age, as 20 per cent of the network pipes are more than 100 years old. Despite this, the utility managed to keep the NRW level at just 5.6 per cent in 2019.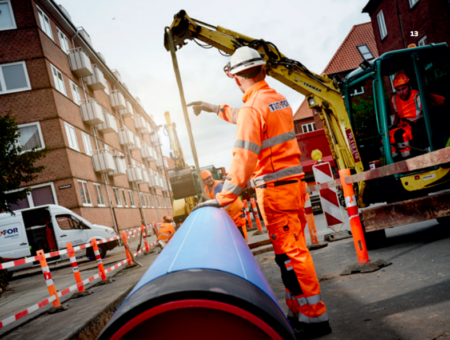 Analysis shows that the cast iron pipes installed before 1945 have a low burst frequency. The high quality of these pipes, representing 50 per cent of the network, is key to the low NRW level. The real water loss in 2019 was 5.0 m3/km/day and the Infrastructure Leakage Index (ILI) was 2.6. A low NRW value is achieved through appropriate planning and maintenance. The water loss has been kept low through systematic leakage detection, where the system is manually surveyed in a three-year cycle, combined with appropriate rehabilitation planning. The network rehabilitation planning is based on a methodical selection of the pipes that are most prone to bursts. The selection considers the pipe material and age as well as leakage and burst history. To improve the balance between replacements and maintenance, HOFOR is adopting an asset management and a management information system. The systems will also help optimize the periods between active leakage detection, aiming to achieve a higher degree of performance based asset management.
Courtesy: HOFOR - Greater Copenhagen Water Utility
A wide range of valuable benefits of reducing NRW
An NRW program will naturally focus on reducing urban water loss and increasing revenue but it can also lead to other important benefits for the water utility and its consumers:
Reduced stress on the area's water resources, allowing more people to be served by the same water source.
Reduced energy consumption for abstraction, treatment and distribution while still meeting the same demand for water as pressure is adapted to demand and smaller volumes of water will need to be treated and distributed.
A more stable water supply as improved performance will provide full pressure distribution 24 hours a day, 7 days a week.
Better support for decision making and customer service due to new management systems.
A strong basis for setting up a long-term rehabilitation and investment plan for the network.
Improved water quality due to optimized water distribution as chlorine content in the distributed water will be better controlled and risk of pollution related to burst and periods with low pressure or vacuum will be reduced.
You should consider reading
Non-revenue water
Urban water management
Water management
Water supply