News
Green Shipping
Power-to-x
Sector integration
+1
Ørsted opens a new era in green shipping by breaking ground on Europe's largest e-methanol project
On 24 May 2023, Ørsted will break ground on Europe's largest e-methanol project, FlagshipONE, at an event in Örnsköldsvik in Northern Sweden.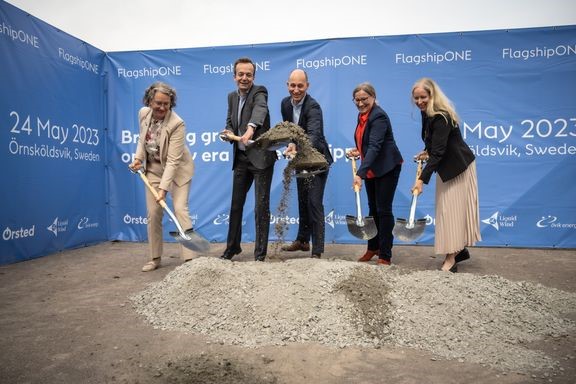 The groundbreaking of FlagshipONE marks not only the beginning of construction of the project, but also the first steps in a new green era of shipping, where large-scale methanol production facilities will supply a constantly growing fleet of methanol-powered vessels. Currently, over 110 e-methanol-powered vessels have been ordered or are in operation, up from 80 vessels at the end of 2022.
Originally developed by the Swedish e-fuels company Liquid Wind, FlagshipONE will be located next to Övik Energi's combined heat and power plant Hörneborgsverket.
The green fuel facility will start production in 2025 and will produce 50,000 tonnes of e-methanol annually.
This is an example of how Ørsted is taking concrete steps towards generating green fuels and moving from plans to action in decarbonising the shipping sector.
Global shipping accounts for around 3 % of global carbon emissions, and the sector is a focus area for Ørsted as the company expands its presence in Power-to-X across Northern Europe and the US.
You should consider reading
Green Shipping
Power-to-x
Sector integration
Shipping and maritime