News
Carbon capture, storage and utilisation
Power-to-x
Sustainable fuels
+1
E-methanol truck proves groundbreaking possibilities
Aalborg is home to Europe's first truck powered by 100 % fossil free fuel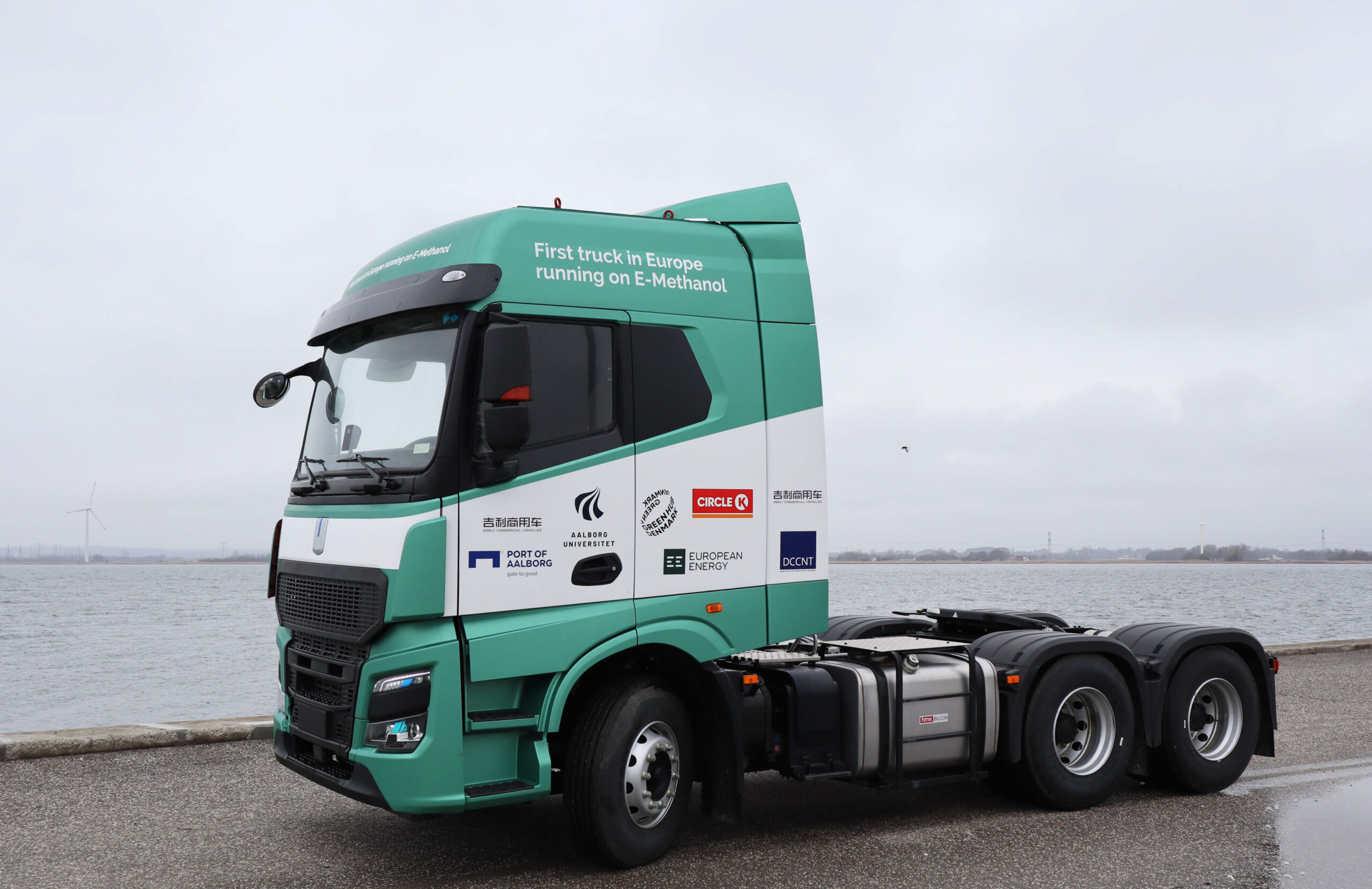 Port of Aalborg works thoroughly with sustainability to promote the green transition. A great example of Port of Aalborg's commitment is the truck from the Chinese owned company Geely Sichuan Commercial Vehicles. The truck was launched in collaboration with Circle K and it is the first of its kind in Europe.
The tank can contain up to 800 liters of methanol and due to that fact the driving length is much longer compared to an electrick truck. Since the spring of 2022 the truck has been driving around at the port area in Aalborg. Technically, it is equipped with a combustion engine similar to a petrol engine but with a few adjustments which means the engine runs exclusively on e-methanol.
– Methanol is smart because it is an energy source that is easy to handle and can be stored with very little modifications of the infrastructure we already know. In addition, methanol can be used in the short term. Port of Aalborg is pleased to take part in this project together with great partners says Kjartan Ross, CCO, Port of Aalborg. The vehicle is a realized example of the technological potential that lies in the production of the CO2 neutral fuel.
Aalborg as a world-leading hub for the green energy technology
For many years Port of Aalborg has allocated large areas to a number of companies that work with green energy, among others Siemens Gamesa, Bladt Industries and Blue World Technologies. With the succesful result of the collaboration with Geely and Circle K, the green truck has kick started a new era in Aalborg:
– Aalborg will be able to attract even more relevant actors and investments, which will strengthen our already large network of competences, says Lasse Frimand Jensen, Chairman of Board, Port of Aalborg.
You should consider reading
Carbon capture, storage and utilisation
Power-to-x
Sustainable fuels
Transport