Case
Industrial water treatment
Wastewater management
Wastewater treatment
+1
Elimination of PFAS/PFOS/PFOA
9. March 2020
Aquarden Technologies has engaged in a number of projects with removal of per- and polyfluoroalkyl substances (PFAS) from leachate and problematic wastewater with great success. The PFAS group of chemicals includes substances such as perfluorooctane sulfonate (PFOS) and perfluorooctanoic acid (PFOA) that have been identified with growing concern as highly carcinogenic contaminants.
An initial study with leachate from Sörab waste deposit (SE) containing PFAS, documented a successful removal of all measured PFAS components including PFOS and PFOA from the raw leachate.
After treatment in our SCWO reactor, all 12 PFAS substances were measured and found to be 99,9 % eliminated. Results, validated by Danish Technical University (DTU), are shown in the figure below: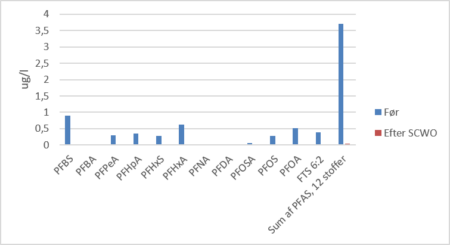 These compounds are extremely difficult to degrade even with advanced oxidation technologies but Aquardens SCWO-technology is able to completely destroy them.
PFAS is a widely spread "forever chemical"
Large quantities of groundwater and soil are presently contaminated with PFAS that are found to be persistent, bio accumulative and toxic. PFAS have been applied in many products and especially as flame retardants, and are extremely recalcitrant to conventional remediation technologies such as chemical and biological degradation. This is why PFAS is called a "forever chemical".
Revolutionary use of SCWO technology – full scale
While Supercritical Water Oxidation (SCWO) is a known technology, only Aquarden Technologies has managed to make it commercially available. In 2016 Aquarden Technologies was awarded a prize for the patented SCWO-technology, designed for onsite treatment of wastewater containing hardly-degradable organic compounds like PFAS´.
Major positive effects
Aquardens SCWO based solution provides more different positive effects:
Complete destruction of PFAS
Can be used full-scale / on-site.
Reuse of filter media
Reduced carbon footprint
Removal of PFAS from a Swedish airfield
Fire drills are conducted regularly on airfields, where fire extinguishing agents containing PFAS are used. As on many airfields, one airfield in Sweden has identified PFAS as a pollutant in their soil and water, and has therefore engaged Aquarden Technologies to remove these compounds.
Results can be seen below:
| | | |
| --- | --- | --- |
| | PFOS ug/L | PFOA ug/L |
| PFAS-concentrate from airfield | 679 | 34 |
| Water after SCWO treatment | <0.1 | <0.01 |
Professional partners
Aquarden is widely recognized for its ability to handle highly contaminated water as e.g. solution provider for the French defense industry. We are consecutively engaged with a range of partners producing tailor made solutions for specific industries and companies, including several Norwegian landfills, like ØFAS, the construction industry engaged with soil washing and Scandinavian defense agency estates.
If you are responsible for or dealing with PFAS´ pollution or similar toxic waste water challenges, we would be pleased to invite you for a professional dialogue.
Welcome to Aquarden Technologies.
For more information please find us at Aquarden.com or call us at +45 48 70 85 88.