Case
Energy efficiency in buildings
The Ev0 Building: A blueprint for ultra-low carbon workspaces
12. May 2023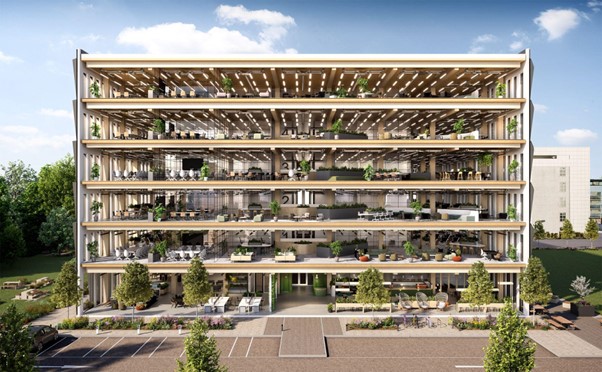 Solution provider

Ramboll is a leading international engineering, design and consultancy company, owned by the Ramboll Foundation.
More from Ramboll
Want to see this solution first hand?
Add the case to your visit request and let us know that you are interested in visiting Denmark
Request Visit
How do you design and construct a workspace building that meets the UK's net-zero carbon vision, with ultra-low carbon emissions, high energy efficiency and sustainability, and innovative architecture?
This was the challenge Ramboll was faced with upon being hired to provide sustainability, MEP, and structural design expertise to the Ev0 building project alongside local property providers Bruntwood Works. Located at the heart of Didsbury Technology Park in Greater Manchester, the 6-storey building is a £30m commercial development aimed to set the bar high for future workspaces.
Ramboll used a smart and green design approach that relied on the extensive use of timber and low-carbon concrete.
The building's façade design was optimized to minimize solar gain and overheating, and almost all the energy required for the building will be generated on-site (94%) through the use of solar panels and an ambient loop system.
The remaining 6% of energy demand will be sourced from Bruntwood Works' co-operative owned wind farm in Ayrshire.
The Ev0 building is expected to be the most operationally efficient office building in the UK and a model for future sustainable commercial developments. The building stores approximately 4000 tons CO2e of CO2 and has upfront carbon emissions of circa 500 kgCO2e/m2 and whole life carbon emissions of 800-1000 kgCO2e/m2.
The building's design and construction make it one of the lowest carbon workspaces in the UK, helping businesses to take affirmative action to reduce their carbon footprint