Case
Energy efficiency
Energy efficiency in buildings
Energy efficiency in industry
+2
Indonesia Denmark Energy Partnership Programme (INDODEPP)
2. December 2022
Despite the fact that climate and energy transition goals have been set in Indonesia, Indonesia's energy transition still need to overcome multiple barriers namely energy access, energy security and energy sustainability. In order to reduce the climate change impacts and smoothen the process of energy transition, some essential aspects are; energy accessibility and affordability for society, security of supply and sustainability of the energy sources.
Through its enhanced Nationally Determined Contribution (NDC) in 2022, Indonesia has committed to reduce its green house gas emission with 31,8 % through its own national efforts and 43,2% with international support by 2030. Indonesia's Government has also set a target of achieving a Renewable Energy mix of 23 % by 2025 and 31% by 2050.
INDODEPP
Our five-year energy partnership programme pushes the development of a sustainable and affordable energy system. Areas of cooperation include energy planning, renewable energy integration and improving energy efficiency.
Read more about INDODEPP
Through INDODEPP, Indonesia Ministry of Energy and Mineral Resources and Danish Energy Agency have continuously run a joint partnership in four different outcomes until 2025:
Scenario based long-term energy plans and regulation to identify sustainable development pathways by creating and analysing long-term energy models
Integration of renewable energy
Energy efficiency in buildings, industries, and power plants to reduce the need for new investment on additional energy production
Low carbon development strategies in provincial level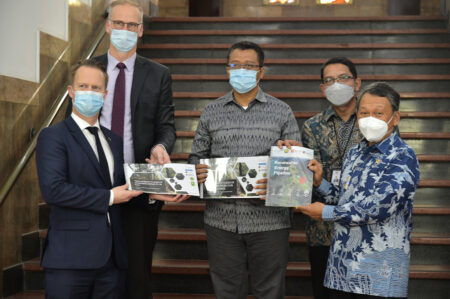 INDODEPP has resulted in several studies namely; Indonesia's RE pipeline, Regional Energy Outlooks for 4 different provinces and prefeasibility studies on RE solutions. The Regional Energy Outlooks indicated ways that renewable energy sources and technologies can provide sustainable energy solutions at the provincial level and deliver cost efficient energy supply and a high level of energy security.
In close collaboration Energinet, Danish Energy Agency and the Danish Embassy provided technical support and capacity-building in relation to forecasting renewable energy integration into the power system for employees for Indonesia's State Owned Electricity Company, PLN. Recently Denmark also assisting PLN in running a wind pilot project tender processes to increase the renewable energy shares in Indonesia's power system and attract more RE investment through transparent frameworks.
Further projects on energy efficiency, support on energy saving potential studies, technology catalogue and recommendation on regulatory frameworks have also been ongoing since 2020.