Case
District heating
Heat storage
Solar energy
+1
Greening the heating supply through the use of thermal solar storage
22. March 2023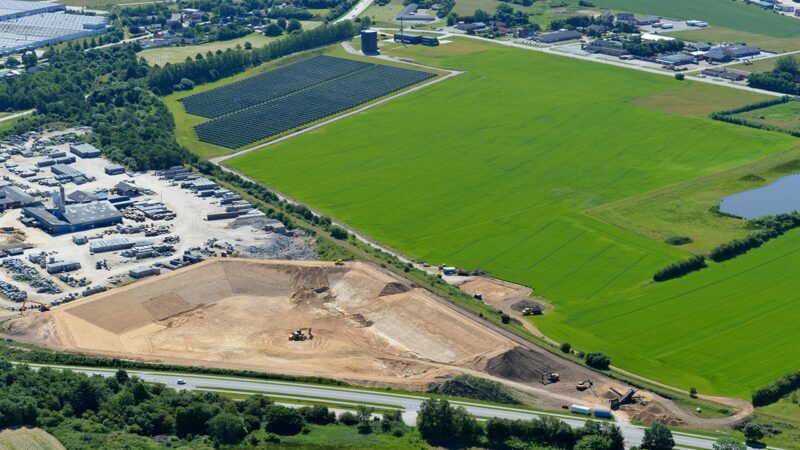 Solution provider

Ramboll is a leading international engineering, design and consultancy company, owned by the Ramboll Foundation.
More from Ramboll
Want to see this solution first hand?
Add the case to your visit request and let us know that you are interested in visiting Denmark
Request Visit
Using renewables to meet our energy needs is a necessity. Most countries are working towards a system where all of their electricity is sourced from renewables. However, the need for heating that is also powered by renewables is equally important, given that heat is responsible for half of the total final energy consumption globally. However, this shift can only take place if we manage to solve the challenge of how to store intermittent renewable energy sources such as wind and solar power for times when the wind stands still, or it is an overcast day. This is partly because our heating needs are often at their peak when the sun is weakest. Therefore, finding ways to store intermittent renewable energy sources, and solar in particular to meet our heating needs in a sustainable manner, including in a financial sense, is paramount.
While Denmark is recognised for pioneering the use of wind energy technology, it may surprise some to know that the country also utilises solar heating as a plank in its objective of greening its heating system. Given that Denmark is not exactly known for a plethora of warm, sunny days, there is a need to store water that has been heated by the sun during the summer at solar heat plants so it can be utilised for heating during the winter as part of the country's district heating system. This is achieved through pit thermal energy storage (PTES).
The way that PTES works is through the creation of an underground pit that is surrounded by soil or sand and lined with water-proof plastic that ensures heat is retained and water doesn't leak out. The pit is then filled with water and stored. By covering the pit with a lid, heat is retained and the intrusion of rainwater into the pit is prevented. The water is then stored seasonally and subsequently sent to consumers in the district heating network so that it can be used for heating in the winter. By using solar power to heat water and then store it, a percentage of heating needs can be met, depending on how large the storage capacity is and the efficiency of the storage.
Since the establishment of several PTES demonstration plants in the 1990s/early 2000s, Denmark is now home to several commercial PTES plants. In the town of Vojens in Southern Jutland, the local district heating company has expanded its existing solar heating plant to 71,000m2 of solar panels and built an accompanying 203,000m3 pit thermal heat storage facility in 2015 in order to meet its district heating needs as sustainably as possible. The size of the pit and the expanded solar heating plant mean that the pit is the largest of its kind on a global scale, and the solar heating plant is among the largest.
The pit in Vojens has a depth of 13 metres and a maximum capacity of 200 million litres. It takes approximately five months to fill the pit, which has a pumping capacity of 50,000 litres of water per hour. An insulating floating lid covers the entire surface of the pit. The lid enables the storage of hot water, which is then made available to consumers during the Danish winter.
Seasonal heat storage is a cost-effective way to utilise surplus renewable energy and provides a potential solution to the challenge of matching the demand for energy with a supply of intermittent renewable energy. Utilising PTES for large-scale solar thermal storage in district heating as Denmark does interlinks the heating sector with the electricity sector, thereby securing high rates of energy utilisation and cost-effective renewable energy production. For PTES facilities in Denmark, energy storage efficiency amounts to over 60% [1]. Furthermore, PTES in combination with a CHP plant, an electric boiler and a large heat pump has the same impact on the power grid but is significantly cheaper than using batteries to store electricity. By combining thermal energy storage with renewable energy sources, heat generation from fossil fuels is avoided, which reduces greenhouse gas emissions.
In the specific case of the plant at Vojens, 2,000 district heating consumers are supplied with solar heating, corresponding to 45% of the annual district heat consumption. Furthermore, consumers can shave 10-15% off their annual heating bill, and the plant spares the environment from the emission of 6,000 tonnes of CO2 annually. The plant at Vojens has also inspired the construction of a similar, but slightly smaller, heat storage pit in the Danish town of Toftlund, which is in close proximity to Vojens. Doing so increases the share of solar heating in the town's heat production to approximately 50%, and it is expected to have roughly two load cycles annually. In the Greater Copenhagen district heating system, a similar pit has been constructed recently in order to optimize the heat production from CHP plants and heat pumps taking into account power price fluctuations. It is expected to have around 25 load cycles annually.
[1] Pedersen, A. S., Christensen, R., Bhowmik, A., & Norby, P. (2019). Energy storage technologies in a Danish and international perspective. Technical University of Denmark. https://orbit.dtu.dk/en/publications/energy-storage-technologies-in-a-danish-and-international-perspec
Products in this solution