Green electricity to power 450,000 Taiwanese homes
15. October 2020

Solution provider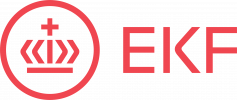 EKF is Denmark's export credit agency. We help to finance your purchases of Danish solutions.
More from EKF – Denmarks Export Credit Agency
Want to see this solution first hand?
Add the case to your visit request and let us know that you are interested in visiting Denmark
Request Visit
With its 640 MW capacity, this will be Taiwan's largest offshore windfarm, which from 2021 will be powering more than 450,000 Taiwanese homes with green electricity. EKF is helping finance the project with a guarantee of EUR 422 million, representing 25 per cent of the senior debt. Taiwan has long been forecasted as the next major market for offshore wind, and the consensus is that Taiwan is poised to be a crucial regional wind energy hub in the coming years. Together with Danish sponsors and exporters, EKF helped open up the market in Taiwan.
The Taiwan Strait – the body of water between the Taiwanese west coast and the Chinese mainland – is with its viable water depths ideal for wind turbines. Political willingness and great ambitions mean that the framework conditions for attracting investors are more favourably advanced than in other potential markets. EKF has so far been involved in the financing of all of Taiwan's offshore wind farms.
Image credit: Yunlin.