Biorefining of grass for protein production
4. September 2021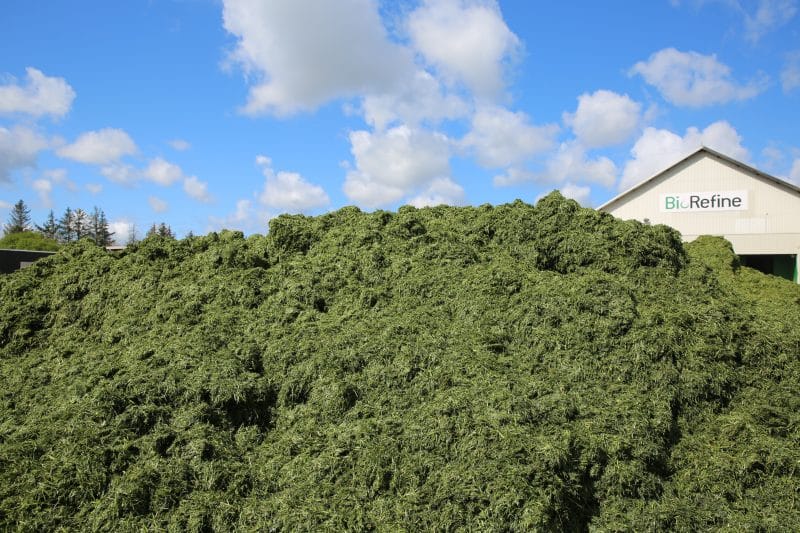 Solution provider

Science develops better seeds.
More from DLF Seeds
Want to see this solution first hand?
Add the case to your visit request and let us know that you are interested in visiting Denmark
Request Visit
Challenge
Demand is increasing for locally produced sustainable alternatives to imported soy, as the global demand for meat is continuously high and will increase commensurate to increases in the human population.
Solution
A locally grown protein based upon innovative forage solutions for feed will meet the future's needs for more sustainable meat production.
Grass, clover and alfalfa have an interesting profile for a refined protein. The protein stored in such perennial forage are, by nature, directly available to cows, and a new, innovative refining process concentrates protein from perennial forage to be a valuable protein feed for pigs and poultry. As such, a green biorefinery designed to produce protein for organic feed from approx. 2,000 hectares of perennial forage has been established in 2021 near Esbjerg. To improve the yield of protein, the company BioRefine has developed and patented a new system as an alternative to the well-known screw press system. A breakthrough climate changing protein production means moving from imported soy to locally grown protein in grass, clover, and alfalfa.
Results
It will minimise the CO2 footprint of the agricultural land use, as perennial forage crops are grown over 3-4 years, enabling a larger capture of CO2 than annually rotated crops. In addition, nitrogen-fixing clover and alfalfa reduce the use of fertilisers. The capacity of the plant will be 7,000 tons of perennial forage with a 55 per cent protein content.
Contributors: BioRefine, DLG, DLF, Danish Agro, GUDP-Ministry of Environment of Denmark