News
Water management
Water resource management
Water supply
Grundfos launches SUREWATER mineral water to increase water affordability in Ghana
Ghana Water Initiative (GWI), one of the initiatives under SafeWater, a strategic business unit within Grundfos, has announced the launch of SUREWATER mineral water.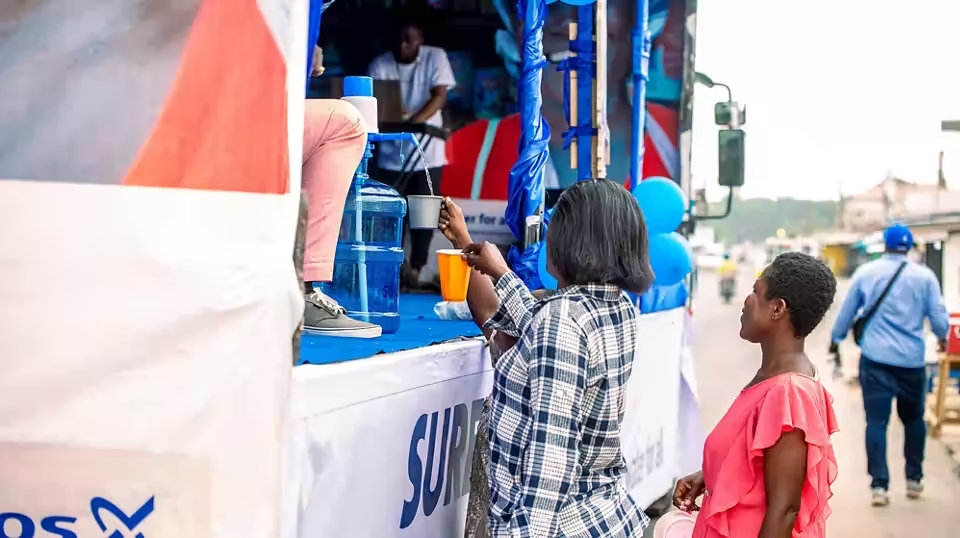 This is a new packaged water aimed at increasing water security by providing affordable water to all and contributing to a more sustainable environment by reducing the use of sachet water in Ghana.
SUREWATER will provide access to clean water as a refill service to 4,000 residents in Otoase, and 150,000 residents in Nsawam as well as citizens from other parts of Accra. This is part of the larger GWI project which aims to develop commercially viable solutions to provide water services to underserved communities in Ghana and reach one million people with drinking water by 2026.
Xorlali Yao-Kuma Kpodo, GWI's Engagement Manager commented: "We are committed to improving people's quality of life through access to clean water, which we believe is a fundamental right. We are confident that SUREWATER will make a positive difference in Ghana, and we are eager to continue our efforts to create innovative solutions that tackle the world's water and climate challenges."
SUREWATER is packaged in large 18.9 litre containers that are designed for multiple uses and can be refilled as needed. The use of dispenser bottled water can significantly reduce the amount of plastic waste generated from single-use plastic containers, helping to protect the environment and its ecosystems, while providing clean drinking water for communities previously without access. SUREWATER costs GHS60 (USD4.74) for the first-time purchase, to buy the bottle and the water, and GHS12 (USD0.97) for subsequent refills, paying for the water only.
The water is produced from a centralised, supervised facility in Otoase that can produce 400 bottles per day. This facility also provides clean water to the citizens of Otoase through smart water ATMs and home connections. The bottled water is sourced from the ground and goes through a robust treatment process that includes reverse osmosis to ensure that only the best quality water reaches the consumer.
Grundfos established the GWI under the Grundfos SafeWater unit to design and test new approaches to water service delivery in rural communities in Ghana. As a true SDG-focused (UN Sustainable Development Goal) company focusing on both clean water and sanitation (SDG6) and taking action to combat climate change (SDG13), the GWI is invested in developing commercially viable solutions to provide water services to underserved communities. Since 2018, the GWI has established two pilot schemes. The first, launched in partnership with the Community Water and Sanitation Agency (CWSA) at Abomosu in 2020, provides about 8,000 people with access to clean and sustainable water through smart water ATMs and household connections. The second, launched in Otoase in 2022, includes a water bottling plant to provide SUREWATER mineral water, making clean drinking water affordable and accessible both in Otoase and beyond.
Anise Sacranie, Grundfos Water Access Director: "This project is just one of Grundfos' many water initiatives in Africa. We recognise the pressing need for sustainable water solutions in Africa, and with the launch of SUREWATER we are aiming to make our water projects commercially viable, having a positive impact in the region both for the environment and by making clean drinking water more accessible."
You should consider reading
Water management
Water resource management
Water supply