News
Water supply
Water resource management
Grundfos completes 25 successful years in India
Company hosts the 'Water Track' during The Danish Royal Delegation's visit to India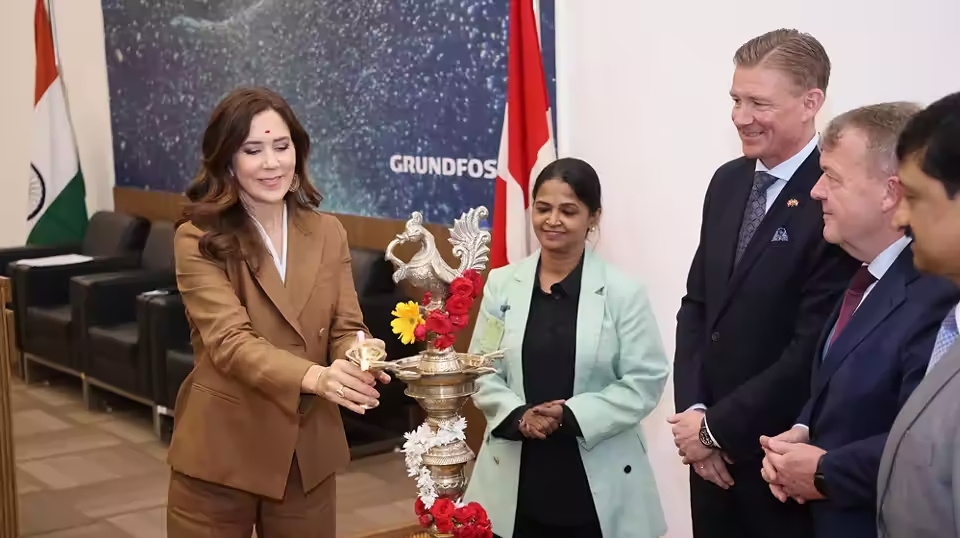 Chennai, March 01, 2023: Grundfos India celebrated the completion of 25 successful years of operations in India. The company started its India operations in 1998 with an aim to transform the Indian pump manufacturing industry with new benchmarks in sustainability, urbanization and digitalization solutions to solve water and climate challenges in the country.
Speaking on the occasion, Poul Due Jensen, CEO, Grundfos, said, "It is exactly 25 years ago, that my father, Niels Due Jensen then-CEO of Grundfos, established Grundfos India. He saw an opportunity for Grundfos in the booming market in India, and in 1998, we opened a sales office here in Chennai. It proved to be a very good idea, and today India is one of our most important markets. We have seen a growing demand for high-quality products, innovative technologies, and energy-saving and sustainable water solutions."
"At Grundfos, sustainability is at the heart of everything we do, and we are committed to pioneering solutions to the world's water and climate challenges and improving the quality of life for people. India's ambitious sustainability agenda and the ambition to give all its people in India access to clean water matches our solutions and ambitions perfectly," added Poul Due Jensen.
To mark the momentous milestone, Grundfos is the host for the Danish Royal delegation visit to India and organizing for the events running in the 'Water Track', to enhance the co-operation in the water sector between Denmark and Tamil Nadu. In Chennai, the company hosted a seminar on water sector cooperation between Denmark and Tamil Nadu at its India headquarters in Chennai. Her Royal Highness, The Crown Princess of Denmark along with the Danish Minister for Foreign Affairs, Lars Løkke Rasmussen and other members of the Danish Delegation were part of this seminar.
Grundfos India wants to help India reach its water and climate targets by 2030. Grundfos is also actively participating in the Green Strategic Partnership between India and Denmark, which is focussed on sustainable urban development, circular economy involving environment, water supply and innovation and digitalization.
The company recently launched a new type of solar pump, which was designed and produced especially for the Indian market. This pump, that is primarily intended for household use and to give people easy access to water, is produced in its Chennai factory. Apart from increasing the localization of some of its key products and suppliers, Grundfos India is also strengthening its offerings around digitalization, advanced flood control solutions and energy optimization in buildings.
Usha Subramaniam, Country President, Grundfos India, said, "With two factories in Chennai and Ahmedabad, we are in a unique position to live up to our promise to respect, protect, and advance the flow of water and to help India take the next step in furthering India's green transition agenda. Over the years, we have seen that our products and solutions play an important role in India, and we can make a positive difference in this country together with the local authorities and our Indian business partners."
Later today, Grundfos India will host a dinner event to commemorate the Tamil Nadu – Denmark Partnership for Sustainable growth. The event will be attended by the Danish Royal delegation including HRH The Crown Prince of Denmark, HRH The Crown Princess of Denmark, the Danish Minister for Climate, Danish Minister for Foreign Affairs and HE The Danish Ambassador to India and Thiru Thangam Thennarasu, Hon'ble Minister for Industry, Tamil Nadu.
During the dinner event and the 25th year anniversary celebrations, Grundfos India is signing an MoU valued at INR 25,00,000 with Hand in Hand India, a Non-Governmental Organization to support a CSR project that will benefit 300 households and more than 1200 individuals in Thazhambedu village, Thirukalukundram District, Tamil Nadu. This project will improve water access by restoring traditional water harvesting structures. Additionally, household toilets will be built for impoverished families, and a Miyawaki forest will be cultivated to improve the biodiversity.
You should consider reading
Water resource management
Water supply