News
Solar energy
Wind energy
A record year: Wind and solar supplied more than half of Denmark's electricity in 2020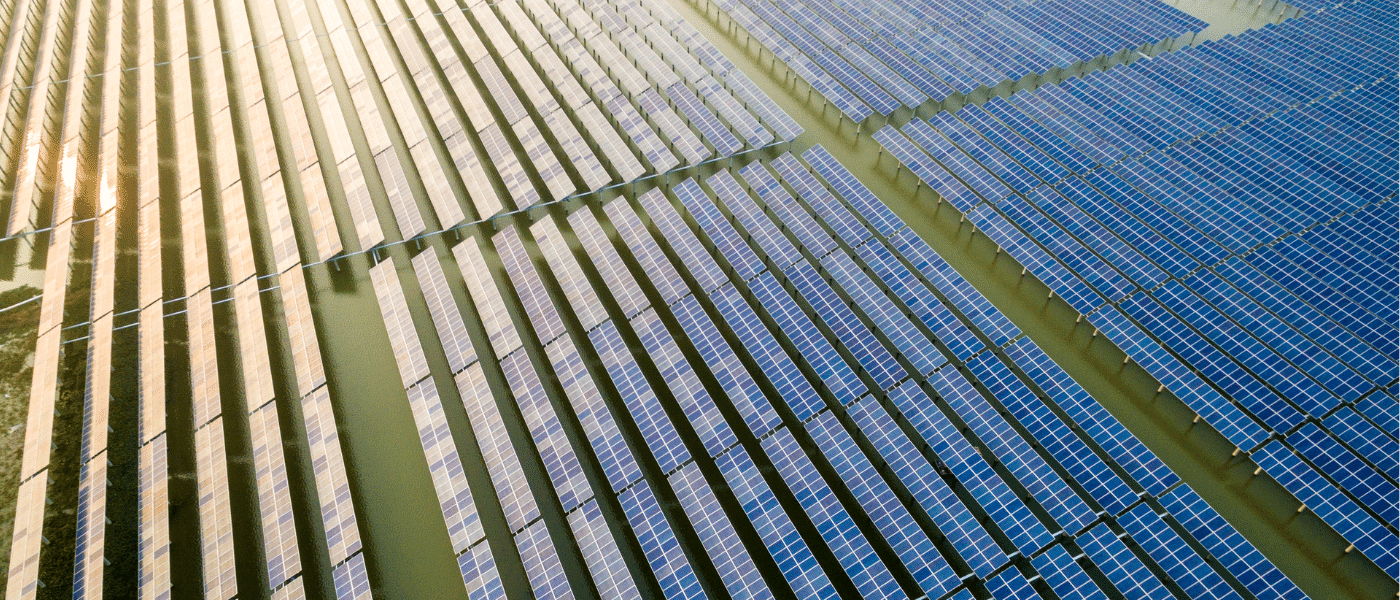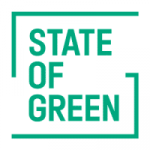 Years of political focus and investments in renewable energy is paying off. In 2020, 80 per cent of the electricity coming out of the electricity sockets in Denmark came from renewable sources, up from 76 per cent in 2019.
Onshore and offshore wind turbines produced just over 46 per cent of Denmark's consumption of electricity. According to Wind Denmark, Danish wind turbines have blown 16.27 TWh into the electrical grid – a record-high amount of wind energy. With a production of 1.20 TWh, solar cells accounted for approx. 4 per cent of Danish electricity consumption in 2020.
Related news: New green record for Danish electricity: lowest CO2 emissions ever
This brings the share of wind and solar power in Danish electricity to just over 50 per cent for the second year in a row. In ten years, the share of wind and solar power in Danish electricity consumption has doubled.
Wind and solar power, share of electricity consumption in Denmark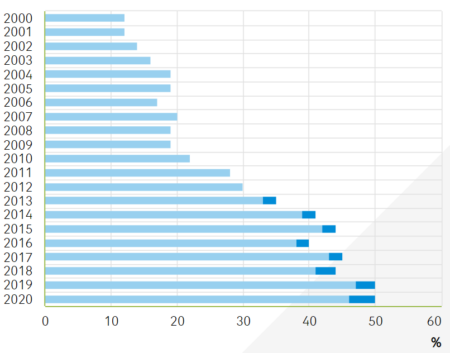 Source: The Danish Energy Agency (Numbers are preliminary from mid December 2020).
Graph by Confederation of Danish Industry.
Cuts CO2 emissions in Denmark – and the Netherlands
In Denmark, the higher amount of green electricity has resulted in the lowest ever amount of CO2 in electricity. The amount of CO2 is now at 127 gram CO2/KWh, which is a drop by 34 per cent in just five year.
Other countries are also benefitting from Danish green electricity, highlights Dansk Energi. In just over a year, the COBRA cable between Denmark and the Netherlands has saved the Dutch up to one million tonnes of CO2 in electricity consumption. This is because the CO2 content of Danish electricity is much lower than in Dutch electricity.
The trend continues
In 2030, the production of electricity based on renewables will be enough to cover all of Denmark's electricity consumption. To this end, The Danish government has made ambitious plans, including the establishment of two energy islands by 2030. The islands will expand Denmark's capacity by at least 4 GW.
At the same time, more technology-neutral tenders for land-based wind and solar are planned in the coming years. Investments are also being made in strengthening the distribution of electricity, e.g. through power-to-X, heat pumps, geothermal energy, electrification in transport and industry, as well as in increased transmission and storage capacity.
Related news: Denmark's first all-electric ferry embarks on its maiden voyage
Sources:
Confederation of Danish Industry
You should consider reading