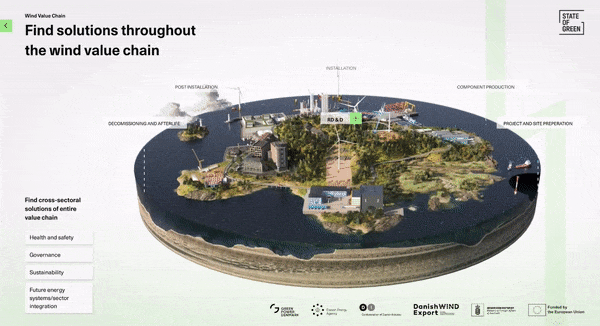 Discover the Danish wind value chain
Dive into our digital visualisation of Denmark's green wind value chain, and discover companies and organizations that specialize in wind-related technology, research, and innovation.
Discover the wind value chain
Find your next business opportunity. Explore Denmark's wind value chain 
Denmark's wind energy sector is a prime example of how renewable energy can be both environmentally and economically sustainable. Spanning everything from R&D, manufacturing, installation, and operation of wind turbines to energy production, distribution and grid integration, Denmark is home to the entire wind energy value chain. A close-knit network of companies, research institutions and public players, who are experts in collaborating with each other.
Some of the key players in this value chain are the wind turbine manufacturers, who design and produce the machines that harness the power of the wind. These companies are responsible for everything from sourcing raw materials to developing cutting-edge technology that improves efficiency and reliability.
But the value chain doesn't stop there – Denmark's wind energy sector also includes companies that specialize in wind farm development, energy production, and grid integration. These companies work together to ensure that wind energy is not only generated but also transmitted and distributed to households and businesses across the country and that the grid is well-balanced.
And of course, the environmental and societal benefits of Denmark's wind energy sector are immeasurable. By reducing reliance on fossil fuels, the sector is helping to combat climate change and improve public health. And through its focus on community ownership and participation, the sector is also promoting social equity and economic development.
Explore the world of wind
Get the full experience at greenvaluechains.com
Discover the full digital visualisation of the value chains at greenvaluechains.com.
Go to greenvaluechains.com