Case
Climate change adaptation
District energy
Nature based solutions
+2
Large-scale tunnel projects in Copenhagen
6. August 2019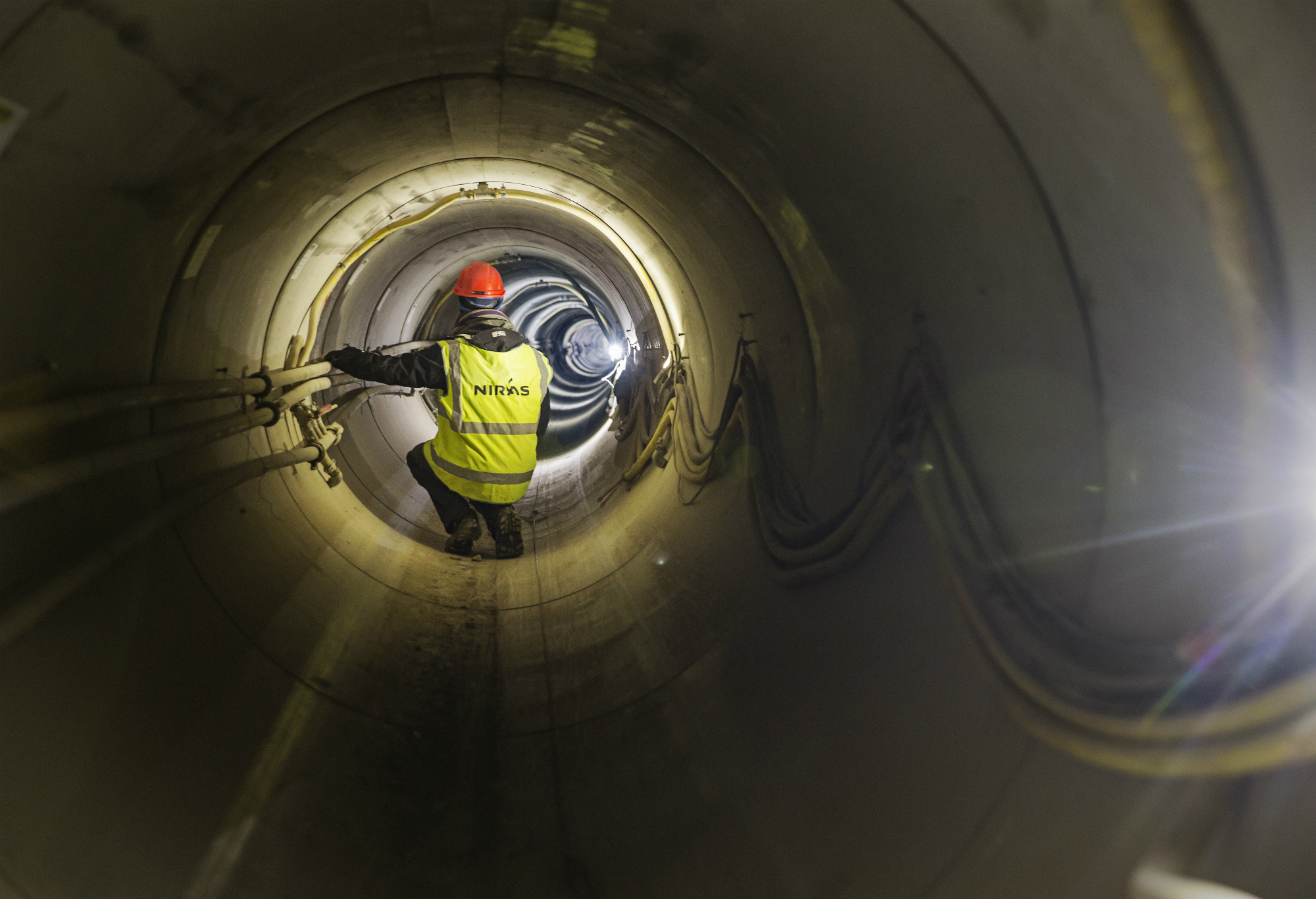 Solution provider

More from NIRAS
Want to see this solution first hand?
Add the case to your visit request and let us know that you are interested in visiting Denmark
Request Visit
Not only one, but two cloudburst tunnels are now being established in the Copenhagen underground by HOFOR and Frederiksberg Kloak (sewer utility). The builders have engaged NIRAS as a consultant. NIRAS has composed an international team of consultants, consisting of experts from the Danish company GEO, which specialises in engineering in soil and water, and tunnel specialists from Germany and the United Kingdom.
These large-scale projects will be constructed as two independent tunnels through the calcareous underground beneath the urban district Valby, and from Vesterbro to Kalvebod Brygge. This is part of a cloudburst management plan for the Danish capital with a funding of approx. 1.47 billion EUR.
The tunnels will cost 40 million EUR and 43 million EUR, respectively, and the main purpose is to prepare the city for rare extreme rainfall events, defined as 15 millimetres of rain (about 0.6 inches) in a 30-minute period. During such cloudbursts, the tunnels will lead stormwater away from urban districts as well as residential neighbourhoods and discharge it into Copenhagen's harbour. At the same time, the two tunnels will also have a climate protection effect on the increased amounts of everyday rain.
The two tunnels will be up to three meters in diameter and drilled at a depth of 12-20 meters below sea level, in the same way as the Copenhagen metro is constructed. The Kalvebod Brygge tunnel will extend over 1,360 meters while the Valby tunnel will have a stretch of 1,500 meters.
The two tunnel projects may seem almost identical, but there is a world of difference. For the Kalvebod Brygge tunnel, a temporary tunnel shaft with secant piling will be established in the harbour. This is due to the fact that this tunnel must avoid collision with the newly established metro line and due to general space limitation. Therefore, the Kalvebod Brygge project will be visible in the urban landscape for several years. This is in sharp contrast to the construction of the Valby tunnel, which is not expected to attract attention, as this tunnel is situated far from neighbours and with ample space around the construction site.
Want to know more?
Read also: Advanced model tests pumps for Kalvebod Brygge Cloudburst Tunnel