Case
Energy efficiency
Offshore wind
Government-to-government cooperation (DETI) in green energy transition between Colombia and Denmark
2. December 2022
A number of different challenges presented themselves for the Colombian government in 2021 when the G2G cooperation started off:
Existing vulnerable hydro-dominated electricity generation combined with a still important generation from fossil fuels.
Complex land rights issues, adding a lot of risk and complexity to many of the country's planned onshore renewable energy projects.
Lacking long-term energy planning
Lacking framework and legislation within energy efficiency
All these challenges represented obstacles to the very ambitious climate ambitions of the Colombian government.
The new Colombian president
For the first time South America's second-most populous country will be governed by a left-wing president and an Afro-Colombian vice-president who is a seasoned leader of social movements.
Read about Petro's future climate action
The Danish Energy Agency offers government-to-government cooperation within green energy transition to selected countries around the world. The newest programs started in 2021 and included Brazil, Pakistan and Colombia under the title Danish Energy Transition Initiative (DETI). The cooperation facilitates knowledge-transfer and capacity building of local authorities within the energy sector, with the aim of strengthening their efforts towards green transition.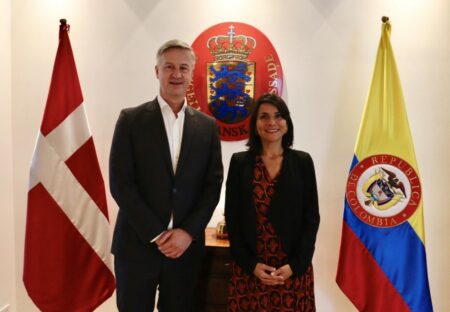 In Colombia, the program was tailor-made to the challenges of Colombia, with special emphasis on energy planning and offshore wind as a solution to the country's land rights issues. The work is still ongoing, however, important milestones so far includes strategic assistance in formulating a governmental resolution regarding the first offshore wind projects (Resolution 40284 from July 2022) and important work streams towards Colombia's first "Technology Catalogue" modelled after the Danish example.