News
Offshore wind
Wind research and development
Wind turbine manufacturing and components
The world's biggest wind turbines inaugurated in Denmark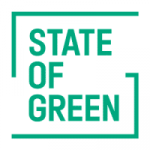 Wind energy has reached new heights in Denmark with the inauguration of two new wind turbines, which are able to produce electricity for more than 18.000 Danish households. With a height of 200 meters, wingspan of 164 meters together with an 8MW production capacity, the wind turbines are now the largest in the world.
The wind turbines produce so much power that 300 of them would be enough to supply all households in Denmark. The main investor European Energy sees this as a big step for wind energy:
- "At European Energy this is an important step forward and adds to our exciting journey within wind development and increased focus on nearshore and offshore project opportunities. With this cooperation we take an important leap forward and we now become an important part of the testing process for the world's most powerful wind turbines and the next generation of the 3MW platform." says Knud Erik Andersen, CEO of European Energy A/S.
The Måde project is a collaboration between European Energy, MHI Vestas and BMC Energi. As the wind turbines are placed in the port of Esbjerg, the project marks an important milestone in the development of offshore wind energy, as it allows for the onshore testing of the 8 MW turbines with respect to installation methods and operation & maintenance procedures before serial offshore deliveries will follow.
- "With these two turbines the world doesn't need to look further than to Måde & Esbjerg, if they want to see an example on Danish know-how and innovative energy technology" says the Danish Minister for Energy, Utilities and Climate, Lars Chr. Lilleholt.
FACTS
The wind turbines have a height of 200 meters

Each wing weighs 35 tons and is 80 meters long

The nacelle weighs 390 tons

A single of the new wind turbines can deliver electricity to 9000 households

300 of these turbines alone can deliver power to all Danish households.
Video: Time lapse of construction of the new wind turbines
You should consider reading
Offshore wind
Wind research and development
Wind turbine manufacturing and components