Case
Energy efficiency in buildings
Finsbury Avenue: A sustainable blue chip commercial high rise in London
12. May 2023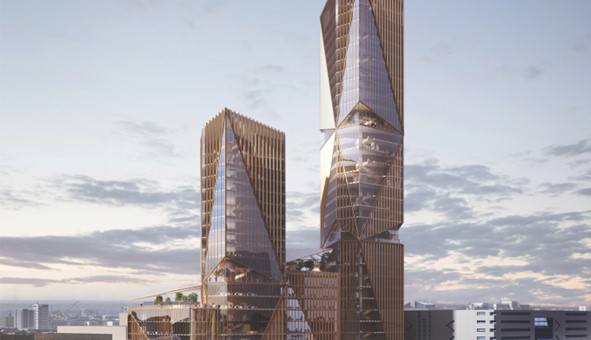 Solution provider

Ramboll is a leading international engineering, design and consultancy company, owned by the Ramboll Foundation.
More from Ramboll
Want to see this solution first hand?
Add the case to your visit request and let us know that you are interested in visiting Denmark
Request Visit
In the heart of the City of London, the sustainable blue chip commercial high-rise building, 2 Finsbury Avenue, was designed to be a net-zero carbon building with a BREEAM 'Outstanding' certification. The sustainability strategy for this project was to focus on lean, low-carbon design and circular economy approaches, targeting a building that would cater to the needs of future generations.
Ramboll was the primary project engineer responsible for the project's structural and services engineering. The challenge was to create a sustainable, high-quality building while meeting the client's expectations.
To achieve the client's goal of creating a sustainable, net-zero carbon building, the project team employed circular economy approaches by designing the building for disassembly and reusing many existing building elements, including the existing facade. The building is designed to use 100% renewable electricity and use heat pumps and highly efficient water-cooling chillers, which ingeniously were brought together in an energy system that operates as efficiently even if the building is only operating at 2% capacity.
The building was designed with flexibility for current and future needs, interspersed with healthy, green areas, and terraces to inspire creative collaboration and social interaction. The project delivery aimed to enhance the Broadgate area through an extensive offer of flexible, high-quality working space catering to a diverse tenant base, including incubators, start-ups, and medium-sized businesses, to become a "world-class, seven-day, mixed-use central London destination".
The building of 2 Finsbury Avenue is a 38-storey, 106,000-square-meter development that offers 63,000 square meters of office floor space, 1,000 square meters of retail space and 1,800 square meters of learning space. The building design is leading the field in net-zero carbon blue-chip London office development, with many forward-thinking solutions breaking the mould in sustainable office design.
With the hybrid energy concept designed to use 100% renewable electricity, Ramboll and its clients have managed to reduce CO2 emissions significantly, resulting in leaner and lower-carbon buildings. By using low-carbon steel, very high cement replacement, and timber where it adds value, the building has also achieved 30% lower carbon in construction, making it a top-performing building in London in terms of carbon reduction.